Are you looking for a new garage to service your beloved Hyundai car or SUV? We welcome you to visit the Medlin Hyundai automotive service center! Our team has the knowledge and expertise to keep your Hyundai properly maintained and on the road for many miles to come. Learn more about our Hyundai service center by reading through the following information.
Should you have any questions, get in touch with our Hyundai service department in Rocky Mount, NC, online or by phone at (252) 985-2601.
Schedule Service Online
Schedule Your Next Hyundai Service
Are you due for a tire rotation? Have you noticed a pesky noise coming from one of your wheel wells? No matter the service or situation, let Medlin Hyundai assist you with all of your automotive service needs. Schedule your appointment today - our service department is open Monday through Friday from 8 a.m. to 5:30 p.m., and Saturday from 8 a.m. to 1 p.m.
If you need help finding our service department, you can get directions here.
Hyundai Service Coupons & Specials Offered
Interested in saving during your next visit to our Hyundai service center? We offer a variety of coupons and specials to help you get a great deal on maintenance services. Check out current service coupons to see if you can save on your next trip to the Medlin Hyundai service department.
This Month's Offers
Popular Hyundai Services
Oil Changes
To ensure your engine runs as smoothly as possible, you should change your engine oil routinely. Creating an oil change schedule for your vehicle depends on a number of factors like the type of oil your Hyundai requires and how often you drive. Refer to your owner's manual or see a Medlin Hyundai technician for a recommended oil change schedule.
Tire Rotations
Having all four of your tires rotated on a regular basis will allow you to keep them for as long as possible. We understand that replacing your tires is a big investment. While we want to prevent you from needing a set prematurely, it's important that you stay safe on the road.
Topping Off Fluids
There are a number of different fluids that contribute to your vehicle running smoothly each day. Our technicians will check and top off several different fluids like transmission fluid, power steering fluid, and brake fluid.
Multi-Point Inspection
It's a good idea to have your vehicle inspected from top to bottom each year. A multi-point inspection at the right time often eliminates the need for extensive repairs later.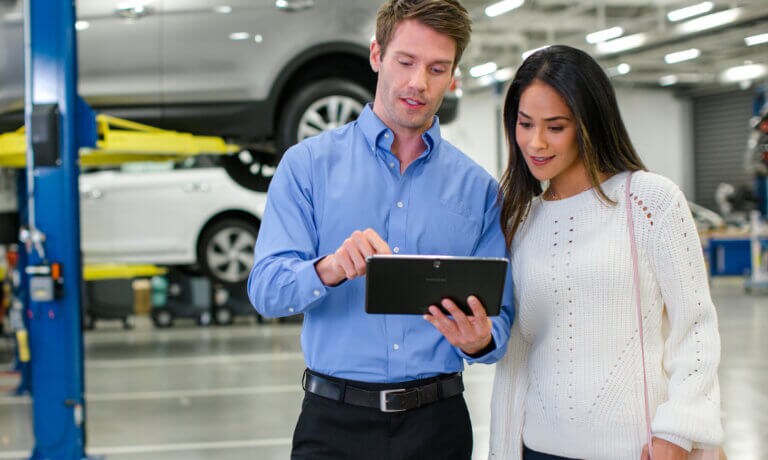 Why Service at Medlin Hyundai?
The service department experience at Medlin Hyundai is seamless, transparent, and easy. We know your day can't come to a halt, so we make the auto service process a breeze. Plus, our service advisors are communicative and ensure that you have a positive experience, and you can feel confident knowing that your vehicle is in the hands of Hyundai OEM-certified technicians.
Order OEM Hyundai Parts Today
At Medlin Hyundai, we only use genuine Hyundai replacement parts so your vehicle runs as smoothly as possible. You can also order parts through our parts department - submit an inquiry and a team member will get in touch with you shortly.
Contact Medlin Hyundai for Services Today
Need more information on auto services at Medlin Hyundai in Rocky Mount, NC? Give us a call at (252) 985-2601 - we're more than happy to assist you!
Schedule Service Online